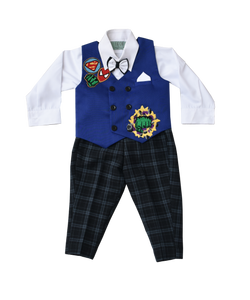 ONLINE EXCLUSIVE
White Shirt With Black Check Pant & Hulk Print Waist Coat by Fayon Kids.
Top : Cotton
Top Lining: No.
Bottom : Chack Fabric
Bottom Lining: No.
Care Instruction : Dry Clean Only
Product Code : FK-ND-FK1155
Have a question? Submit your query through the Contact Us page, mentioning the Product code and our team would be happy to assist.